Priory Gate Lodge No. 8202 was founded by members of Newark Priory Lodge and was Consecrated on January 30th 1968.
The Lodge meets at Chertsey Masonic Hall on the second Saturday in March, May and October and the third Saturday in January and November. It's known to its members and visitors simply as 'Priory Gate'.
Early membership was heavily influenced by the printing trade and related industries and was, in its earlier years, known as a 'printers lodge'. Since then, membership has changed substantially but they are still several members who joined in its earlier days and are or were allied to the printing industry.
Today the Lodge has past members of the armed forces, past and serving members of the police service and a wide spectrum of other occupations. We currently have 42 members whose ages range from 31 to 85. Priory Gate is one of the largest Lodges in the Province of Surrey.
The Lodge has a long established reputation for the quality of its ceremonies and this is due in no small part to the very active Class of Instruction which has strong support from the Past Masters whose aim is to guide, mentor and hopefully entertain our newer and well established members. The Class of Instruction meets in Byfleet on 1 or 2 Monday evenings prior to each meeting.
The Lodge works Emulation Ritual and unusually, in a tradition laid down by the Founders, every meeting is opened and closed in all three Degrees. The Lodge is also noted for working the Lodge of Sorrows for any of its Brethren who have passed to GLA.
Socially, the Lodge is active with an annual Social Evening held shortly before Christmas , another in the middle of the Summer and with a formal 'Ladies Night' hosted by the Worshipful Master during his year. Brethren frequently get together for less formally arranged events and we are looking to increase our social events to be further inclusive of partners and families.
Charitable giving is an essential part of the Lodge and because of our size and the generosity of its members we are able to support several local Surrey based charities, in particular the White Lodge Centre close to St Peter's Hospital, Chertsey.
Priory Gate was honoured to receive a Silver Award for its contribution to the 2019 RMBI Festival.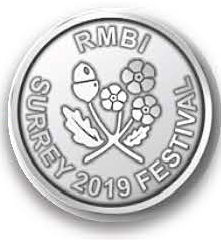 If you had to describe Priory Gate in a single word it would be friendly. By its nature and that of the people who are its members, there is an immediate welcome and warmth to the Lodge that brings our visitors back time and again. That warmth is particularly shown at the Festive Board which maintains that careful balance of combining good company, the enjoyment of good food and wine with the respect for the decorum and traditions of the evening.
Ver 1.02.1 Feb 2020